February is Healthy Heart Month!
Bring a friend or loved one into the club to workout with you this month and advocate for a healthy heart!
---
SCHEDULE CHANGES
Below are schedule changes for the following clubs. All changes are effective 2/1/2020.
Athens:
Youth Boxing changed from 4:30PM on Wednesday to 4:00PM Monday
Youth BJJ changed from 4:30PM to 4:00PM on Tuesday/Thursday
North Marietta:
Monday/Wednesday 7:30PM BJJ is now BJJ Advanced instead of BJJ No-Gi
Tuesday/Thursday 7:30PM BJJ is now BJJ No-Gi instead of BJJ Advanced
Marietta:
Yoga at 7:00PM on Wednesday has been added
---
West Midtown 60-day Fitness Challenge
Spring into shape with our 60-day Fitness Challenge taking place at X3 Sports West Midtown! Our trainers are dedicated to getting you where you want to be in 2020 and we want to document your journey along the way! Ask the West Midtown Front Desk Staff or contact Robert at rshonefelt@x3sports.com for details on how to participate. Good luck!!
---
CONGRATULATIONS!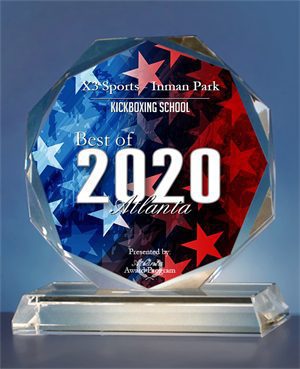 We want to recognize Inman Park for winning the 2020 Best of Atlanta Award for Kickboxing School! Congratulations! Keep up the great work!
NFC Awards won by X3 Sports associated individuals honored at the 2019 NFC Award Banquet:
Angel Blackwell (Member/Marietta)
Robert Hale (X3 Fight Team Professional)
Walter McCord (Employee/West Midtown)
Dayna Kalasz (Employee/North Marietta)
X3 Sports (Company Award)
X3 Sports President/CEO Mike Littrel, was awarded the Executive Champion (Small Company) Leaders in Corporate Citizenship Award by the Atlanta Business Chronicle recognizing his work with X3 Sports and X3 Foundation. Congratulations Mike and thanks for leading us to be successful each day!!
---
X3 Plus Deals For You

The holiday season has come and gone and 2020 is well underway. It was only a few short months ago that Fresh 'N Fit Cuisine announced its new partnership with the X3 Foundation and we're happy to see it continue to grow. We believe that the best way to start the new year moving forward is by giving back.

Health, nutrition and fitness all go hand-in-hand so if you've been wanting to try a meal prep service, Fresh 'N Fit Cuisine offers a wide variety of meals that include Paleo, Keto, Low Carb, Vegetarian and more.

Following the success of the Foundation's holiday sneaker drive, Fresh 'N Fit would like to keep the momentum going by donating a percentage of each sale made from now until February 29th to the After School Enrichment Program.

Just use promo code X3NEWYEAR on the Fresh 'N Fit website every time you place an order and we'll take care of the rest.

HAVE A QUESTION? CALL US AT: 678-903-0100
COPYRIGHT © 2019 X3 Sports Enterprises, LLC. All Rights Reserved. Power Track and Fast Track are registered service marks of X3 Sports Enterprises, LLC.
​Marietta | West Midtown | Inman Park | North Marietta | Athens ​