WORLD CLASS MIXED MARTIAL ARTS GYM IN ATHENS, GA.
Mixed Martial Arts (MMA) Gym in Athens
X3 Sports Mixed Martial Arts training program get you results whether you are a competitive fighter or simply want to train like one. Looking to learn self-defense moves, improve your mental quickness and ability to make a decision without hesitation, or want to add to your sports performance training? Our MMA gym provides the perfect place to achieve your goals.
Mixed Martial Arts (MMA) Training in Athens
Training in mixed martial arts at our gym teaches you MMA fundamentals and combined techniques. Mixed Martial Arts (MMA) is a full-contact combat sport that typically blends techniques from Brazilian Jiu Jitsu, Boxing, and Muay Thai, enabling you to both strike and grapple with your opponent. Through pad work, drills, and sparring you learn to use both your grappling and striking skills to defend or compete at any level.
Mixed Martial Arts (MMA) Classes in Athens
MMA is focused heavily on skill and technique. Within our MMA classes at X3 Sports, you learn basic fundamentals such as striking and clinch, grappling and submissions, takedowns and wrestling defense; blended techniques, including striking into takedowns, takedowns into submissions, ground and pound, working off the cage and ropes, and work simulated sparring - all performed in a safe environment in class without full sparing or striking; however, live takedowns and grappling may occur. While learning these disciplines, there are many opportunities to advance to the next level in competition.
Bringing Out The Warrior Within
Our mixed martial arts program provides the necessary tools needed to begin your journey and master the different pathways and components that make up MMA. Our proven approach on becoming a legitimate mixed martial artist involves combining Boxing, Brazilian Jiu Jitsu, Muay Thai, Sports Performance Training, and wrestling, all which are key components in mastering MMA. Do you think you have what it takes? You could be part of our MMA Fight Team. Sign up for a free class today.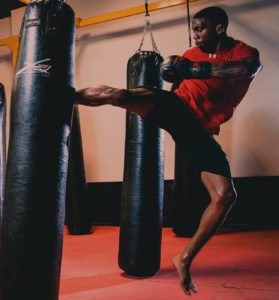 Our state-of-the-art MMA gym has what it takes to get you to the top. Whether as an amateur or professional, we have a well-oiled machine that gets the job done.
• Our fighters have gained national recognition and regularly travel out of state and country for competition.
• MMA Fight Team win rate of almost 90%.
• NFL caliber speed & agility training.
• Organized daily training with specialized coaches.
• X3 Sports fighter management team handles match ups, prize purse negotiations, career counseling and fight coordination. All you have to do is train and win!
Our fight team results speak for themselves. The X3 Sports Fight Team members are consistently dominating their opponents at both amateur and professional levels. Expect to be taught by experienced instructors while training with former and current athletes who have competed in organizations such as the UFC, FFC, Bellator, LFA, WEC, IFL, IBJJF, and other professional MMA organizations across the world.
Learn more about our X3 Fight Team
SEE HOW MUCH FUN MMA CAN BE!
We also offer other fitness classes and training:
KICKBOXING
Performed on real heavy bags with friendly instructors, you will burn up to 1,000 calories per​ class while having fun​ and learning real, effective kickboxing techniques. Change up your routine with one of the best fitness cardio workouts designed to help you lose weight, tone muscle, increase energy, and learn self-defense.
FAST TRACK℠ BOOTCAMP
Fast Track is a unique mixture of cardio and resistance training that utilizes sports training exercises to help you lose weight, tone muscle and improve your coordination. As an alternative to outdoor boot camp classes, Fast TrackSM gets results, whether you have fitness goals or want to increase your sports performance.
BOXING
Our beginner and advanced boxing classes help you boost speed, eye-hand coordination, endurance, and more. Our experienced trainers have the skills to take you to the next level.
POWER TRACK℠ WEIGHT TRAINING
Power TrackSM is an instructor-led, weight-training group class developed by X3 Sports. Using a variety of exercises derived from three basic lifts—bench press, squat, and deadlift—certified strength conditioning instructors closely supervise you to ensure correct form and technique. This class promotes muscle confusion and cognition, which aids in losing body fat and increasing lean muscle mass.
MIXED MARTIAL ARTS
X3 Sports MMA classes will teach you MMA fundamentals and combined techniques. If you're a beginner, you'll learn the basics of striking, submissions, and wrestling—and how to blend them all together. When you're ready for more advanced moves, our world-class trainers will help you improve your skills. They can even train you to become a professional fighter.
PERSONAL TRAINING
Personal training sessions can be one-on-one, or within a small group. You are able to specify your training based on your goals, or focus on progressing in any of our classes offered.
MUAY THAI
Muay Thai is also known as the "Art of 8 Limbs" for its use of not only punches and kicks, but the addition of elbow strikes and knee attacks. It is the national sport of Thailand along with being one of the styles favored in MMA for its use of the clinch and sweeps. If you're looking for real life, applicable, high level striking skills for self-defense or combat sports, Muay Thai is for you.
BRAZILIAN JIU JITSU
Whether you're looking for the best system of self-defense, wanting a challenging way to stay active, or hold aspirations of competition, our world-class professors welcome all beginners through black belts onto the mats.
Youth Martial Arts
Kids and Teens in our X3 Sports youth programs learn discipline and fundamental techniques from experienced coaches. Our class-based training provides a positive outlet and increases focus, discipline, and school performance.
YOGA
Yoga is a great way to balance your workout routine. X3 Sports Yoga classes will help you increase flexibility, tone muscles, reduce stress, increase core strength and stability, and develop better focus.
X3 Sports Athens is located in The Shoppes of South Athens on the corner of South Milledge Avenue and South Milledge Drive off of Macon Highway. Servicing the surrounding Athens areas.
DON'T JUST TAKE OUR WORD FOR IT.
Try out one of our classes and see what you can accomplish.