BRAZILIAN JIU JITSU AT X3 SPORTS
We invite you to train with our world class coaches that will teach and improve all students in the art of Brazilian Jiu Jitsu (or BJJ). We welcome all belt levels and anyone who is willing to learn!
Unlimited Classes
Attend as many classes as you want to help you reach your goals faster. X3 Sports has no limit on the number of classes per week or month you can attend.
World-Class Instructors
Professional, qualified professors with over 60 years combined experience in competition and training.
Exclusive Structured Curriculum
Our expertly designed curriculum allows you to track your progress and advancement.
Proper Technique Introduction
Having two levels of classes ensures that you learn the fundamentals correctly before moving to more advanced moves and techniques.
Self-Defense Focus
One of the best martial arts disciplines for self-defense. Our academy will empower anyone, regardless of age, gender, or athletic ability, using techniques and teaching methods perfected over the last century.
Competition Preparation
The expertise to prepare students for competition, if desired.
BENEFITS OF BRAZILIAN JIU JITSU
Self-Defense
Ground Fighting Knowledge
Muscular Endurance
Core Strength
Cardiovascular Conditioning
Flexibility
Balance / Coordination
Stress Relief
Improved Body Composition / Fat Loss
Builds Self-Confidence
Class / Team Camaraderie
Focus / Discipline
Competition / MMA Preparation
BEGINNER AND ADVANCED CLASSES
FUNDAMENTALS CLASS
(All Belt Levels Welcome)
All beginner Brazilian Jiu Jitsu students of all belt levels are welcome in our BJJ Fundamentals Class. You will learn how to defend yourself against someone who does not have fighting skills, on the streets or in real-life situations. Upon completion of Fundamentals training, students will have a basic understanding of self-defense.
ADVANCED CLASSES
(BLUE BELT & ABOVE)
BJJ students who want to pursue higher belts will continue in our Advanced Classes to learn how to defend themselves against someone who has fighting skills. Also, students at this level can apply their training in competition and tournaments, if they desire. This process of perfecting your BJJ techniques continues through the black belt level.
BRAZILIAN JIU JITSU FOR SELF DEFENSE,
COMPETITION, OR HEALTH & FITNESS
Brazilian Jiu-Jitsu is a martial art and combat sport that teaches a smaller person how to defend themselves against a larger adversary by using leverage and proper technique. Jiu-Jitsu teaches very important self-defense techniques that may help to save a person's life if caught in a situation with a physically aggressive opponent. When a person knows how to defend themselves physically, they feel more confident.
At all X3 Sports locations there are a wide variety of all belt levels so there is always someone with similar experience and others who will challenge you to improve your skills. All our instructors are experienced black belts, which means there is always something to learn.
UNIFIED CLASS SEMINAR
Each quarter, all of our black belt professors and the students gather at one location to train together as a team. Our Unified Classes offer a fun atmosphere for learning, team-building and competitions. The benefits continue with providing a variety of training partners for everyone, access to top instructors from each club, and student promotions. All belt levels are welcome! Each quarter, the location may change depending on space availability. Please check our Unified BJJ Schedule for where we are meeting for the next Unified Class.
View Schedule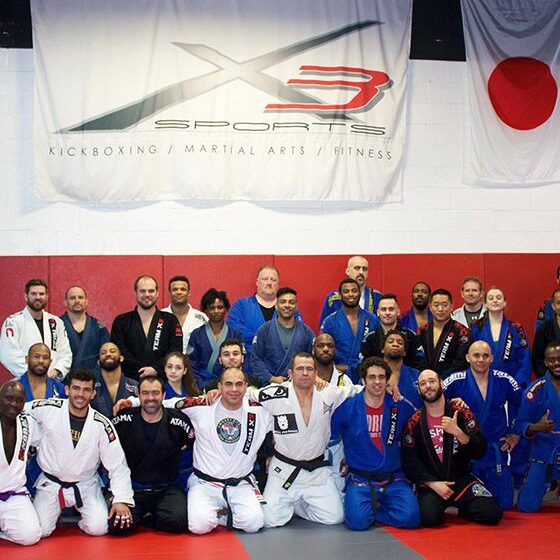 Introducing X3 Sports' Brazilian Jiu Jitsu Gear
At X3 Sports, we understand the importance of having the right gear to enhance your Brazilian Jiu-Jitsu (BJJ) experience. Our focus is not just on the physical aspect of training but also on the traditions and commitment that come with practicing this martial art. Whether you're a seasoned practitioner or just starting your BJJ journey, our carefully curated selection of gear ensures that you have everything you need to excel in your classes.
GI - The Symbol of Commitment, Practicality, and Tradition
A GI, short for "kimono," is the traditional uniform worn by BJJ practitioners. At X3 Sports, we require the use of a GI in our BJJ classes. Why? Because the GI is not just clothing; it's a symbol of commitment to the art, practicality in training, and respect for tradition. When you step onto the mat in your GI, it's a reminder that you're in a different place, a place of learning, discipline, and personal growth. We encourage all our students to keep their GIs neat, clean, and wear them with pride, respecting the roots of Brazilian Jiu-Jitsu.
Rash Guard - Protection and Comfort
In addition to the GI, we also recommend wearing a rash guard during your BJJ training. Whether you're in a GI or No-GI class, a rash guard serves as a versatile piece of gear. It provides protection for your skin against rashes, mat burns, and bruises that can sometimes occur during training. Beyond protection, rash guards offer added comfort, wicking away sweat and allowing for freedom of movement, helping you perform at your best during every roll and drill.
At X3 Sports, we believe that the right gear can make a significant difference in your BJJ journey. Our selection of GIs and rash guards is designed to meet the highest standards of quality, ensuring durability and comfort as you train and progress in this beautiful martial art. Equip yourself with the essentials, embrace the traditions, and embark on your BJJ journey with confidence at X3 Sports.
All BJJ gear will be provided for your first class. We also offer a special deal on GI purchases at membership sign-up!
WANT TO SEE HOW MUCH FUN BJJ CAN BE?