It's hard to find a better workout than fitness kickboxing to cure boredom, torch calories, and work every muscle group. That's why it's becoming such a popular go-to workout for adults who want to get into shape without succumbing to the boredom of the treadmill or stationary bike.
Best of all, fitness kickboxing is available to adults of every age and athletic ability. Everyone from fitness newbies to elite athletes looking for a new way to boost their performance can enjoy and benefit from fitness kickboxing.
This article will explore seven key benefits of fitness kickboxing for adults of every fitness level.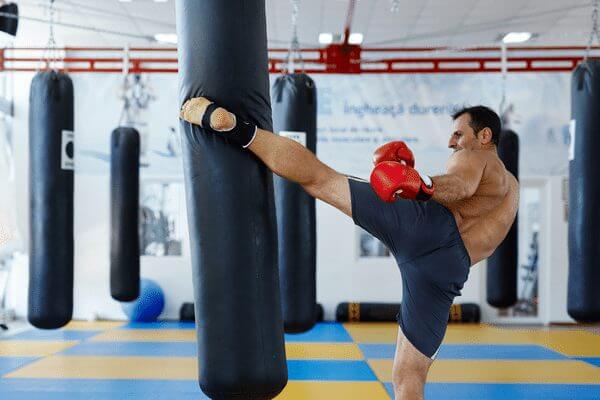 7 Reasons to Try Fitness Kickboxing
Fitness kickboxing has many benefits, from torching calories to helping class participants relieve stress after a long day.
Still, it can be intimidating to try a completely new workout routine. Here are seven reasons adults who want to try a new fitness routine to boost their mental and physical strength should consider trying fitness kickboxing.
1. Get a total body workout
Fitness kickboxing attendees never need to book separate cardio and strength training sessions. Instead, they can get a total body workout in just one hour.
Fitness kickboxing works every muscle group from head to toe, including some that people may not even know exist. Participants will punch, twist, and kick their way to aerobic and strength-building fitness in a fast-paced, thrilling workout that changes with every session.
2. It cures workout boredom
Recent Center for Disease Control findings found that only 23.2 percent of adults in the U.S. meet the national physical activity guidelines for muscle-strengthening and aerobic activity.
Boredom is among the top reasons adults choose to skip the gym. A recent study found that repeating the same activity can lead to boredom, leading to adults giving up on exercising altogether.
Fitness kickboxing cures boredom by giving participants new benchmarks and incorporating different moves during every session. No two sessions are ever the same, ensuring that participants never become bored by repeating the same routine repeatedly.
3. Burn serious calories
Everyone knows that burning calories is essential for weight loss and overall fitness. The average fitness kickboxing session can burn 700 – 900 calories in just one class. This is exceptional for anyone looking to lose weight and rev their metabolism.
4. Get results fast
Thanks to the calorie-burning effectiveness of fitness kickboxing, it's relatively easy to see results.
Many participants lose 10 – 15 pounds during their first month when they combine their fitness kickboxing classes with a nutritious diet. That's because fitness kickboxing burns calories and builds muscle quickly. The result is rapid fat loss, leading to weight loss and greater lean muscle mass.
5. Build muscle to increase strength
Strength training isn't just for bodybuilders. Toning and building muscle can help people in all areas of their lives, including being able to perform daily tasks easier and with less risk of injury. Strength training can also improve athletic performance by increasing mobility and flexibility.
Finally, building muscle can help people look leaner since muscle takes up less space than fat. Therefore, even people who do not notice a change on the scale will enjoy a leaner appearance over time.
6. Increase confidence
Fitness kickboxing is as much a mental workout as a physical one. Participants must focus on learning new moves and conquering new challenges during every class. This leads to increased confidence that carries over into other areas of life.
7. Relieve stress
All exercise can relieve stress by releasing endorphins. Fitness kickboxing adds an extra dose of stress relief by its very nature. Participants will punch, jump, and kick their anxiety away. They leave class feeling happier and more energized than when they walked in the door.
Get These Benefits and More with X3 Sports Fitness Kickboxing
Ready to try fitness kickboxing and get all of these benefits and more? X3 Sports Fitness Kickboxing offers a supportive environment for adults of every fitness level. With over 500 class offerings a month, there is something for everyone. Classes are led by experienced fitness trainers who offer support, encouragement, and tips to ensure everyone enjoys class safely.
There's never been a better time to try fitness kickboxing. Adults in Atlanta can sign up for a free class to see what X3 Sports is all about.