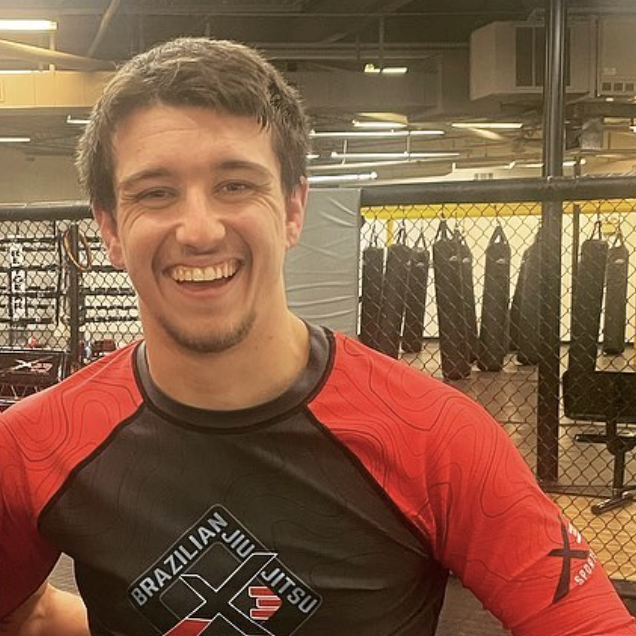 I'm a very high energy individual and it shows in my classes. My students will tell you I'm extremely patient and encouraging, and once you have that "light bulb" moment, you can see the excitement in my eyes and you can hear it all the way across the gym! It's a privilege what I do for a living and my students/clients will tell you I'm EXTREMELY excited to come to work every day.
Bio
Meet Jack May, an exceptional trainer at X3 Sports with over 13 years of experience in the world of Boxing, Kickboxing, and MMA. Jack specializes in instructing combat sports and martial arts to individuals of all ages and skill levels, from beginners taking their first steps into the ring to experts looking to hone their craft.
Jack's journey into combat sports began with no prior athletic experience, but his dedication and passion led him to compete for renowned promotions such as the National Fighting Championship and Submission Hunter Pro. What Jack loves most about combat sports is their ever-evolving nature, which constantly challenges him to learn and grow alongside his students, ensuring a never-ending journey of self-improvement.
For Jack, his "reason why" is deeply rooted in his upbringing within the combat sports community. He has transformed a childhood passion into a fulfilling career that has provided him with countless opportunities for happiness. Jack's goal is to be the same positive influence on his students that his mentors were to him, guiding them toward their own fulfilling lives. He truly feels like a Warrior when he witnesses his students applying the techniques and concepts he has passed on to them, knowing that his teaching benefits and empowers others. Jack's motto revolves around taking initiative and patience, emphasizing that growth and success are processes that require dedication, learning, and resilience.
He preaches, "If you don't ask, the answer is no. You miss 100% of the shots you don't take. If you don't take initiative in some form or another, you will not grow in any capacity no matter what your goal is. Also, be patient with yourself. You shouldn't be perfect at anything you do in the beginning. It's a process."
Classes
BJJ
Boxing
Kickboxing
MMA
Muay Thai
Personal Training
Youth BJJ
Youth Boxing
Certifications
• ABC Certified Boxing Judge/ Official
• ABC Certified Mixed Martial Arts Judge/ Official.
• IKF Certified Kickboxing/ Muay Thai Judge/ Official
• Purple Belt in Brazilian Jiu-Jitsu
Interested in Personal Training?