Why Boxing?
Boxing has become increasingly popular because of its incredible health benefits and real-world value. When you visit our boxing gym in Atlanta, you'll discover high-energy group boxing classes with experienced instructors and a motivated community.
Boxing is an effective way to get in shape fast and learn critical self-defense skills. Our boxing gym in Atlanta provides participants with full-body workouts that leverage the resistance of heavy punching bags and traditional boxing technique to burn calories, build and tone muscles, improve cardiovascular health and endurance, and elevate their mental health.
So, why should you consider joining our boxing gym in Atlanta? Keep reading to learn about boxing's amazing health benefits and why X3 Sports is a destination for cardio combat.
Beginner-Friendly Classes From Experienced Instructors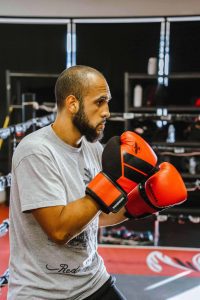 The instructors at our boxing gym in Atlanta build classes for all fitness and experience levels. Whether you're a boxing veteran or have never set foot on the mat, you can join our beginner boxing classes to learn the proper technique to build a boxing foundation.
Our trainers will take time in class to provide individualized instruction, guaranteeing that you'll never feel lost. With the correct form, you'll be able to practice safely and effectively without causing harm to your bones and joints.
At our boxing gym in Atlanta, we have everything you need to train so all you have to worry about is showing up. Our experienced staff will teach you about the equipment you need, including how to wear it, and show you powerful new drills.
In boxing classes, you are at the helm of your experience. You control how hard you're punching and how quickly you're pivoting. This makes boxing classes an incredibly empowering experience because you can always operate within the confines of your own fitness level and comfort. When you're ready to dial up the intensity, we encourage you to work with your instructors to strategically turn up the heat.
Our trainers help boxers break through their comfort zones so they can shatter fitness goals and build strength, endurance, coordination and confidence.
Experienced boxers interested in sparring can check out our Advanced Boxing class.
What To Expect in Boxing Class
In a typical class at our boxing gym in Atlanta, you'll see a mix of strength and cardio conditioning that are designed to build your base boxing knowledge and increase cardiovascular performance.

A typical class will include heavy bag work with our industry standard 120 lb bags, as well as shadow boxing, focus mitt drills, and a number of other exercises designed to get your heart rate up and your muscles shaking with intensity.

In each class, we'll spend time warming up and cooling down. But we highly recommend taking time before and after class to do more of this on your own. Our boxing gym in Atlanta has ample space to stretch and cardio workout machines to get your heart rate up before class. 

Burn Calories, Get Stronger, And Reduce Stress
Boxing improves balance, coordination, reactivity, and agility through strategic movements that engage your entire body. It also helps to boost your metabolism and build muscles, helping you to lose unwanted weight and reach your fitness goals at an accelerated pace.
As you extend your arms for a punch and bend, lunge and pivot for a block, you'll workout your legs, glutes, abs, traps, chest, shoulders, triceps, biceps, forearms and wrists. In addition to building lean muscle, you'll burn major calories. Boxing is considered high intensity interval training (HIIT) that demands bursts of maximum force alongside brief periods of rest. You can burn up to 900 calories in a single session!
When exercising at our boxing gym in Atlanta, you'll reach elevated levels of endurance and stamina. But the health benefits don't stop there. Boxing is a mood booster, giving you a safe outlet to take out your aggression and releasing endorphins that leave you feeling lighter and more confident.

Come Visit Our Boxing Gym in Atlanta And Try a Class For Free!
With so many physical and mental health benefits, boxing has become one of the most popular fitness classes among men and women in Atlanta. With five locations across Atlanta, Marietta and Athens, as well as clean facilities and convenient class times, X3 Sports meets you where you are, on your time.

Book your first class with X3 Sports for free today to see if a membership is right for you!
Additional classes to keep you at the top of your game:
BEGINNING BOXING
Burn calories, improve footwork, and increase hand-eye coordination learning "The Sweet Science" from our skilled trainers. Whether your goal is to earn a world championship belt or simply lose few inches off your waist, our boxing class will give you the highest confidence both inside and outside of the ring.
FAST TRACK℠
Fast Track is a unique mixture of cardio and resistance training that utilizes sports training exercises to help you lose weight, tone muscle and improve your coordination. As an alternative to outdoor boot camp classes, Fast TrackSM gets results, whether you have fitness goals or want to increase your sports performance.
WEIGHT TRAINING
Power TrackSM is an instructor-led, weight-training group class developed by X3 Sports. Using a variety of exercises derived from three basic lifts—bench press, squat, and deadlift—certified strength conditioning instructors closely supervise you to ensure correct form and technique. This class promotes muscle confusion and cognition, which aids in losing body fat and increasing lean muscle mass.
ADVANCED BOXING
When you're ready to up your game, our advanced boxing classes help you boost speed, eye-hand coordination, endurance, and more. Our experienced trainers have the skills to take you to the next level.
BRAZILIAN JIU JITSU
Whether you're looking for the best system of self-defense, wanting a challenging way to stay active, or hold aspirations of competition, our world-class professors welcome all beginners through black belts onto the mats.
MMA
X3 Sports MMA classes will teach you MMA fundamentals and combined techniques. If you're a beginner, you'll learn the basics of striking, submissions, and wrestling—and how to blend them all together. When you're ready for more advanced moves, our world-class trainers will help you improve your skills. They can even train you to become a professional fighter.
YOGA
Yoga is a great way to balance your workout routine. X3 Sports Yoga classes will help you increase flexibility, tone muscles, reduce stress, increase core strength and stability, and develop better focus.
Youth Martial Arts
Kids and Teens in our X3 Sports youth programs learn discipline and fundamental techniques from experienced coaches. Our class-based training provides a positive outlet and increases focus, discipline, and school performance.
PERSONAL TRAINING
Personal training sessions can be one-on-one, or within a small group. You are able to specify your training based on your goals, or focus on progressing in any of our classes offered.
Servicing Areas: Atlanta, Buckhead, Brookhaven, Inman Park, Old Fourth Ward, Grant Park, Piedmont Park, Decatur, Midtown, West Midtown, Marietta, Kennesaw, Acworth, Smyrna, Mableton, East Cobb, Vinings, and surrounding Atlanta.
DON'T JUST TAKE OUR WORD FOR IT.
Try out one of our classes and see what you can accomplish.