Fast Track℠ Indoor Bootcamp group fitness class utilizes a mixture of cardio and resistance training set in a class atmosphere that helps you to lose weight, tone up muscle, gain coordination, and improve your overall mental and physical fitness conditioning. As an alternative to outdoor bootcamp classes, our indoor bootcamp class gets results, whether you have specific fitness and training goals or want to stay in shape. Personalization is key to getting the best possible results, which is why our fitness workout programs are modified to fit your individual workout needs and fitness level. Whether you're new to exercise or you're an experienced fitness buff, our certified professional coaches and trainers will modify every workout so you'll achieve your goals! Trust our trainer to get you there! Click here to see our current schedule.
FITNESS CLASS IN METRO ATLANTA
X3 Sports Fast Track℠ fitness class delivers results! Our daily workouts are beginner friendly and can be scaled to any level of fitness. Our trainers change the workouts daily and offer expert knowledge to back up an awesome workout in a group fitness atmosphere. Trust X3 Sports classes and fitness coaches to deliver the results you seek and you deserve.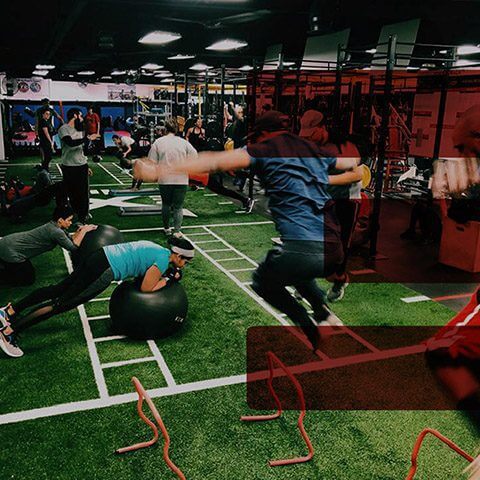 GROUP FITNESS CLASS IN METRO ATLANTA
When it comes to group fitness in and around Metro Atlanta, no one does it better than X3 Sports. Our Fast Track℠ boot camp class is a great example. From toning up to getting your body completely shredded, we've got your back. Through the utilization of our indoor turf and our functional training equipment, X3 Sports has all the tools and features needed for you to get a great workout.  When it comes to fitness, teamwork through a group atmosphere helps get you there.  From relying on each other to be there and counting on each other during workout sessions, group fitness training works. Sweat together, grow together, meet new friends and train together. Let X3 Sports make our group fitness training a part of the holistic approach to a new you. Bring out the warrior within with our indoor boot camp fitness classes.
Boot Camp Class in Metro Atlanta
Every fitness boot camp training session is led by an experienced and certified personal trainer.  Fast Track℠ is designed to be fun, high energy, and challenging all while burning maximum fat and toning your muscles the correct way. Our specialized boot camp workouts use a unique combination of High Intensity Interval Training (HIIT) and Active Rest Training to get your body to burn more fat and calories than you typically see with traditional workouts. Sign up for a free training session today!
Additional classes to keep you at the top of your game:
KICKBOXING
Performed on real heavy bags with friendly instructors, you will burn up to 1,000 calories per​ class while having fun​ and learning real, effective kickboxing techniques. Change up your routine with one of the best fitness cardio workouts designed to help you lose weight, tone muscle, increase energy, and learn self-defense.
BEGINNING BOXING
Burn calories, improve footwork, and increase hand-eye coordination learning "The Sweet Science" from our skilled trainers. Whether your goal is to earn a world championship belt or simply lose few inches off your waist, our boxing class will give you the highest confidence both inside and outside of the ring.
ADVANCED BOXING
When you're ready to up your game, our advanced boxing classes help you boost speed, eye-hand coordination, endurance, and more. Our experienced trainers have the skills to take you to the next level.
WEIGHT TRAINING
Power TrackSM is an instructor-led, weight-training group class developed by X3 Sports. Using a variety of exercises derived from three basic lifts—bench press, squat, and deadlift—certified strength conditioning instructors closely supervise you to ensure correct form and technique. This class promotes muscle confusion and cognition, which aids in losing body fat and increasing lean muscle mass.
MUAY THAI
Muay Thai is also known as the "Art of 8 Limbs" for its use of not only punches and kicks, but the addition of elbow strikes and knee attacks. It is the national sport of Thailand along with being one of the styles favored in MMA for its use of the clinch and sweeps. If you're looking for real life, applicable, high level striking skills for self-defense or combat sports, Muay Thai is for you.
BRAZILIAN JIU JITSU
Whether you're looking for the best system of self-defense, wanting a challenging way to stay active, or hold aspirations of competition, our world-class professors welcome all beginners through black belts onto the mats.
MMA
X3 Sports MMA classes will teach you MMA fundamentals and combined techniques. If you're a beginner, you'll learn the basics of striking, submissions, and wrestling—and how to blend them all together. When you're ready for more advanced moves, our world-class trainers will help you improve your skills. They can even train you to become a professional fighter.
YOGA
Yoga is a great way to balance your workout routine. X3 Sports Yoga classes will help you increase flexibility, tone muscles, reduce stress, increase core strength and stability, and develop better focus.
Youth Martial Arts
Kids and Teens in our X3 Sports youth programs learn discipline and fundamental techniques from experienced coaches. Our class-based training provides a positive outlet and increases focus, discipline, and school performance.
PERSONAL TRAINING
Personal training sessions can be one-on-one, or within a small group. You are able to specify your training based on your goals, or focus on progressing in any of our classes offered.
Servicing Areas: Atlanta, Buckhead, Brookhaven, Inman Park, Old Fourth Ward, Grant Park, Piedmont Park, Decatur, Midtown, West Midtown, Marietta, Kennesaw, Acworth, Smyrna, Mableton, East Cobb, Vinings, and surrounding Atlanta.
DON'T JUST TAKE OUR WORD FOR IT.
Try out one of our classes and see what you can accomplish.